About Honduras
Honduras is located between Nicaragua, El Salvador & Guatemala, surrounded by the Atlantic & Pacific Ocean. The geography consists mainly of mountains and narrow plains along the coasts. It has the largest wilderness area in Central America & the world's largest barrier reef. The climate is tropical with cooler, more temperate weather in the mountains. The country has many natural resources, including gold, silver, copper, lead, zinc, & coal. Spanish is the primary language spoken in Honduras. The national motto is Libre, Soberana e independiente which means free, sovereign and independent.
| OFFICIAL NAME | SIZE | LANGUAGE |
| --- | --- | --- |
| Republic of Honduras | 43,278 Miles | Spanish |
| CAPITAL | POPULATION | CURRENCY |
| Tegucigalpa | 8,598,561 | Lempira |
The Culture
and People
There is a strong sense of community in Honduras. Religious holidays (97% of Hondurans are Roman Catholic) are to be observed & respected. It's common to see impoverished & wealthy Honduran families, many times side by side in the community. Honduras has several distinct ethnic groups of which 90% are mestizo (mixed Amerindian & European), 7% Amerindian, 2% black & 1% white. There are strong Spanish influences, but the majority of the population is mestizo, mainly leading an agricultural way of life. Honduras is known for its rich natural resources, including minerals, coffee, tropical fruit, & sugar cane which serves the international market.
The national dish of Honduras is the plato típico which consists of beef, plantains, beans, marinated cabbage, fresh cream, & tortillas. The baleada is one of the most common street foods in Honduras. The basic style is made of a flour tortilla which is folded & filled with refried beans, quesillo or cheese, & sour cream. Many add roasted meat, avocado, plantains or scrambled eggs as well.
Traditional clothing in Honduras is made by hand, from mostly white fabric & sewn with colorful seams. Women may wear a sleeveless dress, usually with a cloth worn around the waist like a belt, while men wear white pants and a white shirt, also with colorful designs.
Punta is a style of music originating from Honduras but the people also enjoy salsa, merengue, reggae, & reggaeton.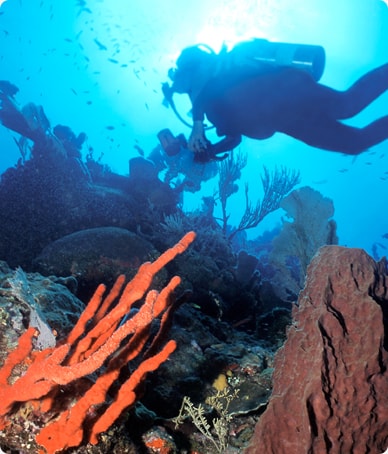 Fun Facts
about Honduras
Honduras means "Great Depths."
Christopher Columbus was the first explorer to land in Honduras.
The scarlet macaw is the national bird of Honduras.
National flower is the orchid Rhyncholaelia digbyana
The main exports of Honduras are coffee, bananas, and wood.
Honduras is 80% mountainous.
Honduras is the second country in the world with more coral reefs after Australia.
Copan Mayan Ruins are considered the most important ruins for the fully intact hieroglyphs.
The five stars on the Honduran flag represent the five countries of Central America.